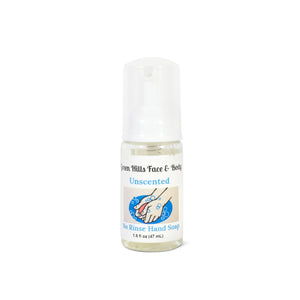 Keep a bottle of this no-rinse foaming hand wash near your sink and also keep one in your purse or car. This is a perfect product when water is not available or to help keep down your water consumption.  Unscented for those who may prefer no scent.
To use: Simply dispense into hands and rub together until dry.

Ingredients: Water, Aloe Vera , Vitamin E Acetate, PEG-7 Glyceryl Cocoate, Cocamidopropyl Betaine, Propylene Glycol, Benzalkonium Chloride, Phenoxyethanol, Tetrasodium EDTA, Fragrance, Color.
1.6 fl oz (47 mL)