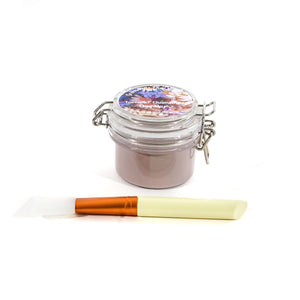 This clay mask is great for dry and sensitive skin! The avocado oil and argan oil help moisturize your skin. Chamomile extract provides a calming and soothing feeling on your skin. 
To use: Apply a medium layer to clean, dry skin. Leave on for 10-15 minutes. Rinse with warm water. Pat skin dry. For dry skin, do not use more than once per week.  Follow with moisturizer.
Ingredients: Distilled Water, Kaolin Clay, Avocado Oil, Purple Brazilian Clay, Organic Argan Oil, Polawax, BTMS-50, Chamomile Extract, Organic Lavender Oil, Optiphen. 
Net wt. 2 oz (56 g)