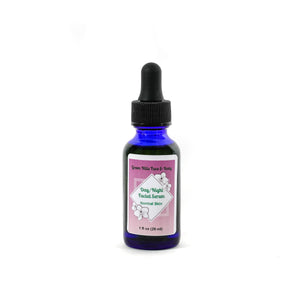 Facial serums may help improve the look and feel of your skin, help reduce the look of pores, help prevent fine lines and wrinkles and make your skin appear glowing and dewy soft. Serums penetrate deep into your skin to help heal it from the inside. 
To use: Apply 3-5 drops to hand, rub to distribute oil. Pat gently onto face/neck. May follow with moisturizer, if desired, to help lock in moisture.
Ingredients: Organic Rosehip Seed, Organic Argan Oil, Organic Cucumber Oil, Carrot Seed Oil, Grapeseed Oil, Avocado Oil, Papaya Oil, Sweet Almond Oil, Sunflower Oil, Organic Jojoba Oil, Tamanu Oil, Vitamin E Oil,  Organic Sea Buckthorn Oil, Glycerin, Carrot Seed Essential Oil, Sandalwood Essential Oil, Rose Absolute, Organic Frankincense Essential Oil,  Organic Lavender Essential Oil,  Myrrh Essential Oil, Chamomile Essential OIl,  Neroli Essential Oil and Organic Tea Tree Essential Oil.
1 fl oz (29 ml)